Berger Realty remains an anomaly in today's Real Estate world of large conglomerates and even larger franchised affiliated agencies. It continues to be independently owned, operated and more importantly, thriving, and has continually adhered to a commitment of providing superior customer service.
It is a standard that the owner, Leon Grisbaum, has demanded of himself and his associates over the last 75 years. It is also his secret of building and maintaining the leading Real Estate office in Ocean City. Leon, who is a licensed commercial pilot with an instrument rating flies his own twin engine airplane and has been known to tell a surprised client who lives hundreds of miles away that he will deliver his agreement to him within the hour. It's not surprising that this energetic and educated leader has infused his values in his staff.
Once a small, virtually one man operation on the corner of 32nd and Asbury Avenue in the late 1940's, Leon has expanded his business to include four satellite offices as well as growing and remodeling the main office numerous times over the years. Instinctively responding to the requirements of his business and meeting the needs of his clients, Leon has had the foresight to acquire adjacent properties and is the only Real Estate office in Ocean City and possibly in Cape May County to provide sufficient off street parking on the extremely busy summer weekends. The orange and white logo on the Berger signs is well known and is synonymous with and recognized throughout southern New Jersey as a symbol of real estate excellence.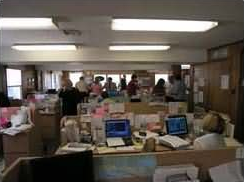 Beginning with a modest staff, Berger Realty now employs 20 support personnel as well as 125 full time realtors. Included are a staff attorney and General Manager, an in-house photographer, sales and rental managers and a business manager that has been with Berger Real Estate since 1971. It's a tribute to the loyalty Leon enjoys that many of his associates have been with him continually for over 35 years. Leon perceived that in order to better serve the enormous and growing demand for summer rentals that there was a need to specialize in that area, so he created the Berger Real Estate Rental Department. These were agents who would specialize in the requirements of the summer vacation consumer. The concept has been so successful that Berger, as an agency does more than twice the amount of rentals as the next two Ocean City agencies combined.
The premise of Berger's approach to realtor success is instruction and professionalism and toward that end there is a theme of continuing education in our state of the art multimedia room. New classes are conducted in all phases of real estate sales, rentals, financing, state, federal and local law, tax free exchanges, insurance and closing transactions, environmental, wetland and tidal flow edicts and obtaining and utilizing the newest technology. And speaking of technology, Berger Real Estate has been at the forefront of new and cutting edge equipment for years. It ranges from wireless broadband to high speed scanners and information software. Our entire office group shares a network that allows for instant updating of data and information. Berger has been considered by our peers as a technology leader in the real estate industry and our extremely well received and easy to surf web site, www.bergerrealty.com, receives more hits and generates more leads than any other site in Ocean City.